Last updated: 20. May 2013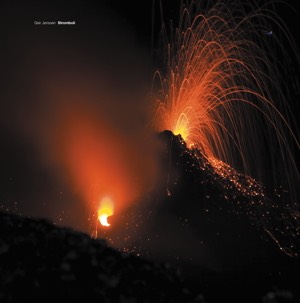 Geir Jenssen:  Stromboli 12" vinyl
Field recordings of a volcano by Geir Jenssen, better known as Biosphere. 
Stromboli is an active volcano off the north coast of Sicily in the Mediterranean. The volcano has erupted many times, and is constantly active with minor eruptions, often visible from many points on the island and from the surrounding sea, giving rise to the island's nickname "Lighthouse of the Mediterranean". The last major eruption was on April 13, 2009. 


Track listing:

Side A Stromboli 9:40
Side B Stromboli Dub 9:36
Recorded at Stromboli's crater edge (924 m) on July 19th 2012 at 9:30 pm. Weather: gentle breeze, +15°C. Location: 38°47'33.69"N, 15°12'50.96"E.
Recording equipment: Fostex FR-2LE field memory recorder, Audio-Technica AT835ST shotgun microphone, and a Canon 5D mkII.
Photography by Geir Jenssen & Emilija Skarnulyte. Design by Jon Wozencroft. Cut by Jason at Transition.
€ 10
Ingun Bjørnsgaard: Hedda. Music: Geir Jenssen.
Opéra National de Lorraine, Nancy, France, 23-26. mai 2013.
Andy Cato: Sundown Sant Agnes (Biosphere Remix) FREE DOWNLOAD.
 A remix of a track taken from Andy Cato´s (Groove Armada) forthcoming album on Apollo.

Biosphere @ Donaufestival, Krems, Austria, 4. May 2013.
Biosphere and Peter Mettler (images) @ Canadian International Documentary Festival, The Royal Cinema, Toronto, Canada, April 28th, 7:30 p.m.
Hot Docs will pay tribute to Peter Mettler with this year's Focus On retrospective, an annual program showcasing the work of a mid-career Canadian filmmaker. Hot Docs will screen four of Mettler's films in the Focus On program and also present Live Cinema: Image/Sound Mixing Performance by Peter Mettler and Biosphere as part of the Special Presentations program.
Biosphere @ Phase One festival, Carrick-on-Shannon, Ireland, April 20th.
Biosphere & Lustmord performs TRINITY at Adelaide Festival, Australia.
Queen´s Theatre, Adelaide, Thursday 14. March.
Biosphere & Lustmord performs TRINITY at Paradiso, Amsterdam, 
Saturday 23 February 21:00 - 22:00
Biosphere has been commissioned to write the music for Miu Miu /Prada´s 
spring/summer 2013 advertising campaign.
Out on Feb. 4th 2013. 

Pistol & Bart: ...Rir Igjen [BIO10], 2xLP gatefold sleeve + digital download. 
Contains one track co-written and produced by Biosphere.
EUR 20


Biosphere at CTM, Berlin, 2. February 2013.
Subharchord Event with: 
Biosphere + The Pitch (NO/INT) world premiere 
Frank Bretschneider (DE) 
Frederic Rzewski (US, playback) 
Talks with Carsten Seifarth and Gerhard Steinke (DE) 
Screening and discussion with/of Ina Pillat's documentary "Subharchord - A Child of the Golden Age" 

Biosphere at the Dutch Mountain Film Festival. 
Nieuwe Nor, Heerlen, The Netherlands
Concert 18. January, Q&A 19. January 2013.
Out on Dec. 15th 2012. 
Geir Jenssen: Nokas [Soundtrack] Digital EP (BIO13D)
EUR 5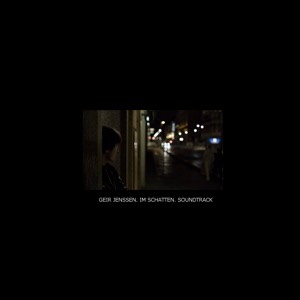 Out on Dec. 15th 2012. 
Geir Jenssen: Im Schatten [Soundtrack] Digital album (BIO12D)
EUR 8


Out on Dec. 13th 2012. 
Geir Jenssen: Kill By Inches [Soundtrack] DIGITAL EP (BIO11D)
EUR 4